The Tower Garden Experiment

Geary County School, USD475 has been provided a hydroponic Tower Garden from KSDE and Juice Plus+ ! The Tower Garden is quite nice and comes with a lot of bells and whistles including a light kit.
What we produce in the tower will be served to the kids getting lunch in the area later this summer. During the school year it will be served to students in the schools. We won't be able to produce enough for every school but may do a round robin type thing.
The Tower Garden is a hydroponic unit, meaning your plants grow without dirt. It uses water and nutrients that you add. The pH needs to be kept fairly neutral as well. That is all down in the bottom part and there is a pump inside that pumps the liquid up to the top in that center tube and it runs down the insides and keeps the plants moistened. The outer structure is called a "tomato cage".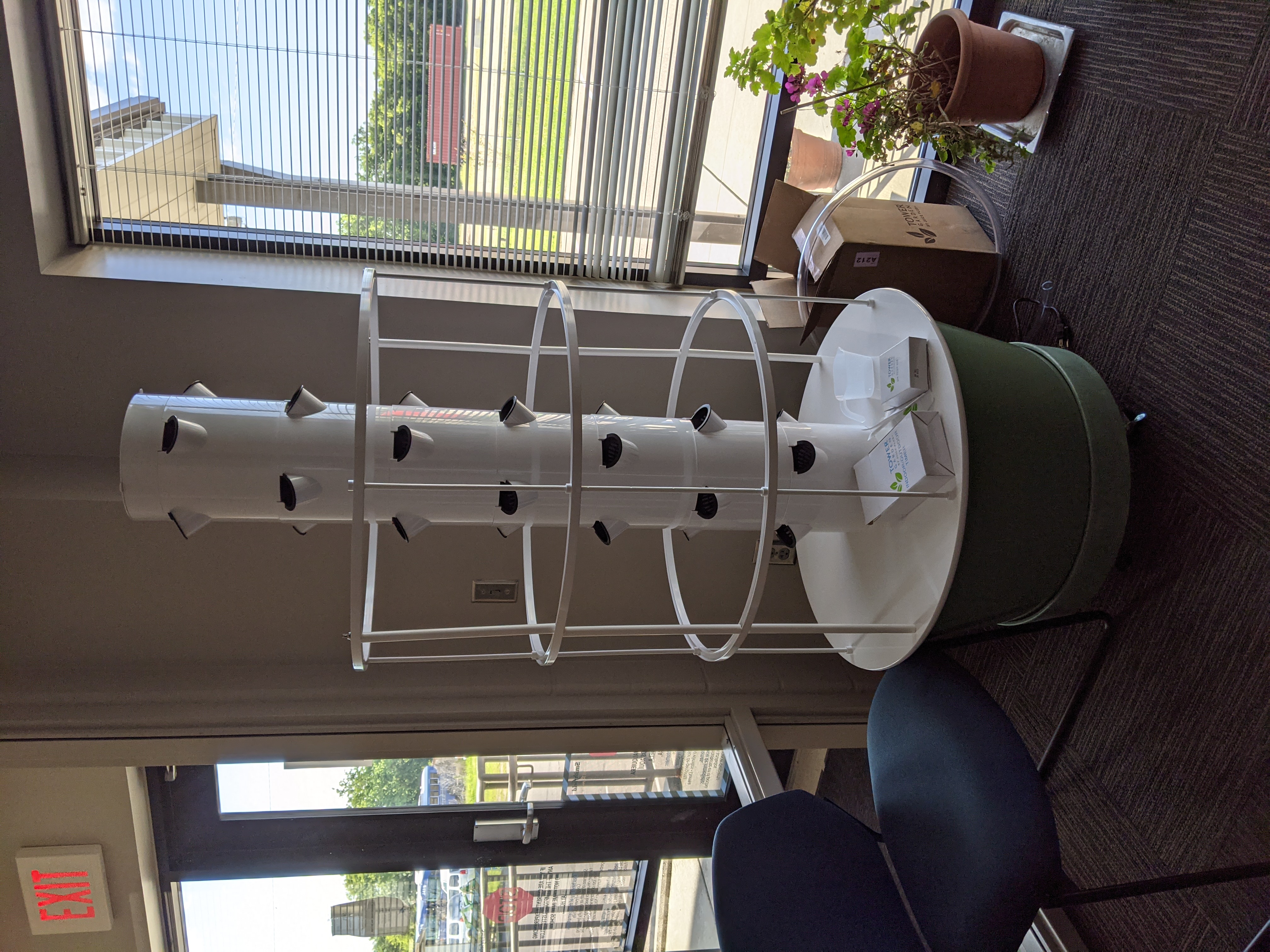 The seedlings need to be started outside the garden. They are planted in Rock Wool and covered with vermiculite to keep them moist. It only took 3 days to see the first sprouts!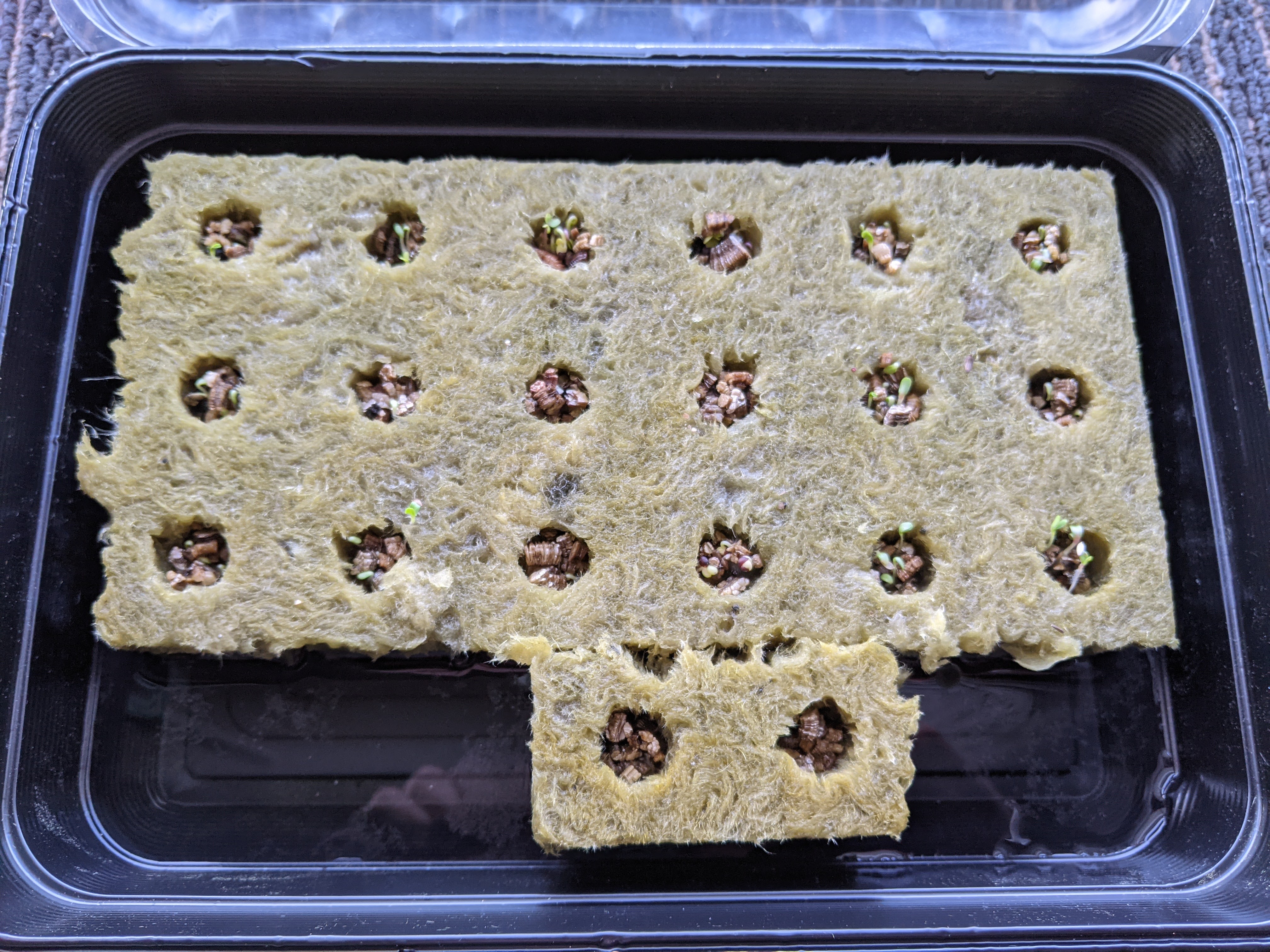 This is how they appeared one week later, quite the growth!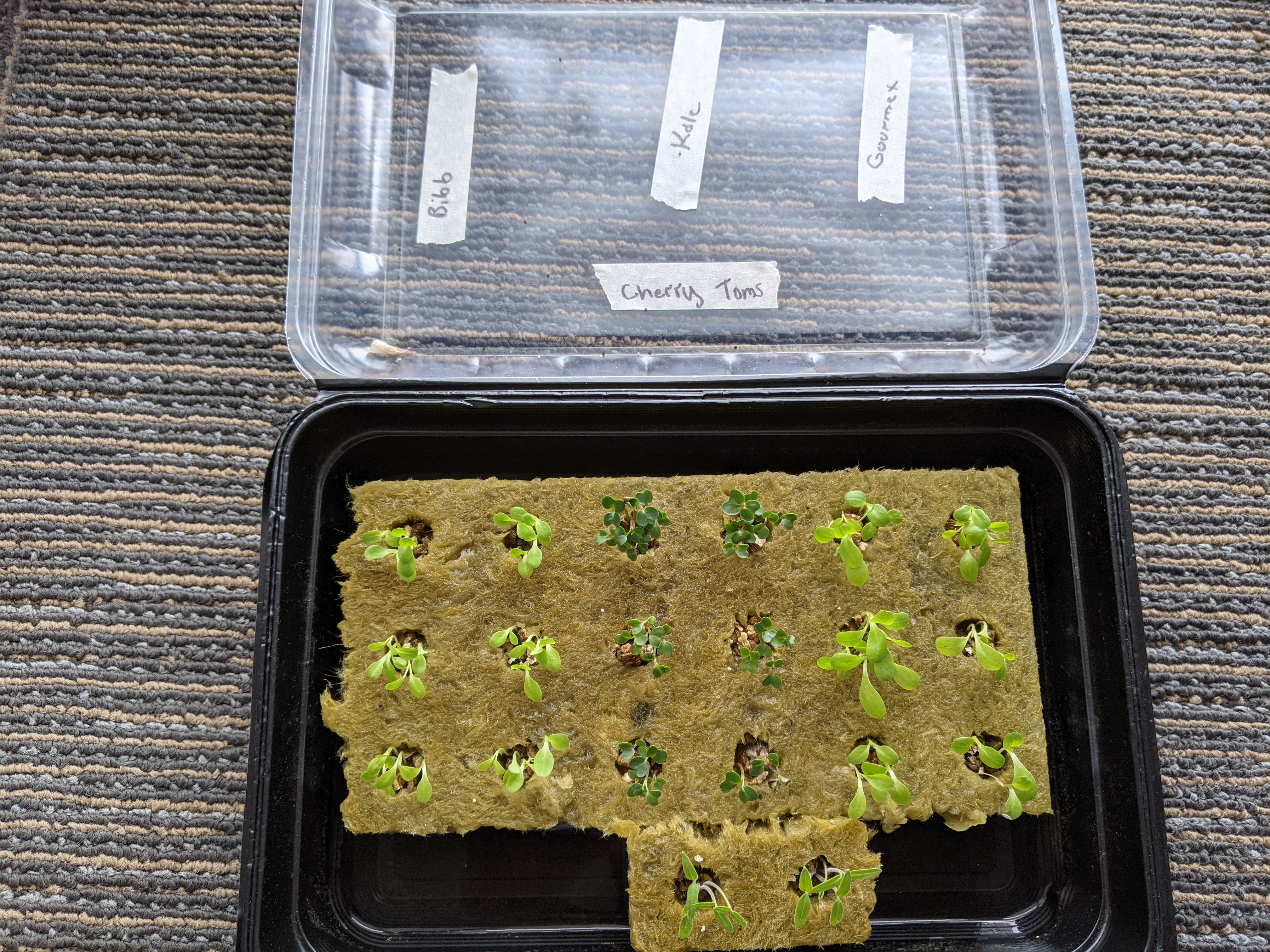 The seedilings are thinned and in the tower as the lights have arrived. Very exciting. The pump runs for about 3 minutes at a time and waters the tower. Then it is off for about 10 minutes or so and so on throughout the day. The lights will run for about 14 hours as reccomended. They are also on a timer. It's all very slick. The top ports are empty at the moment as I have some spinach seeds sprouting and they were not ready to go in the tower quite yet.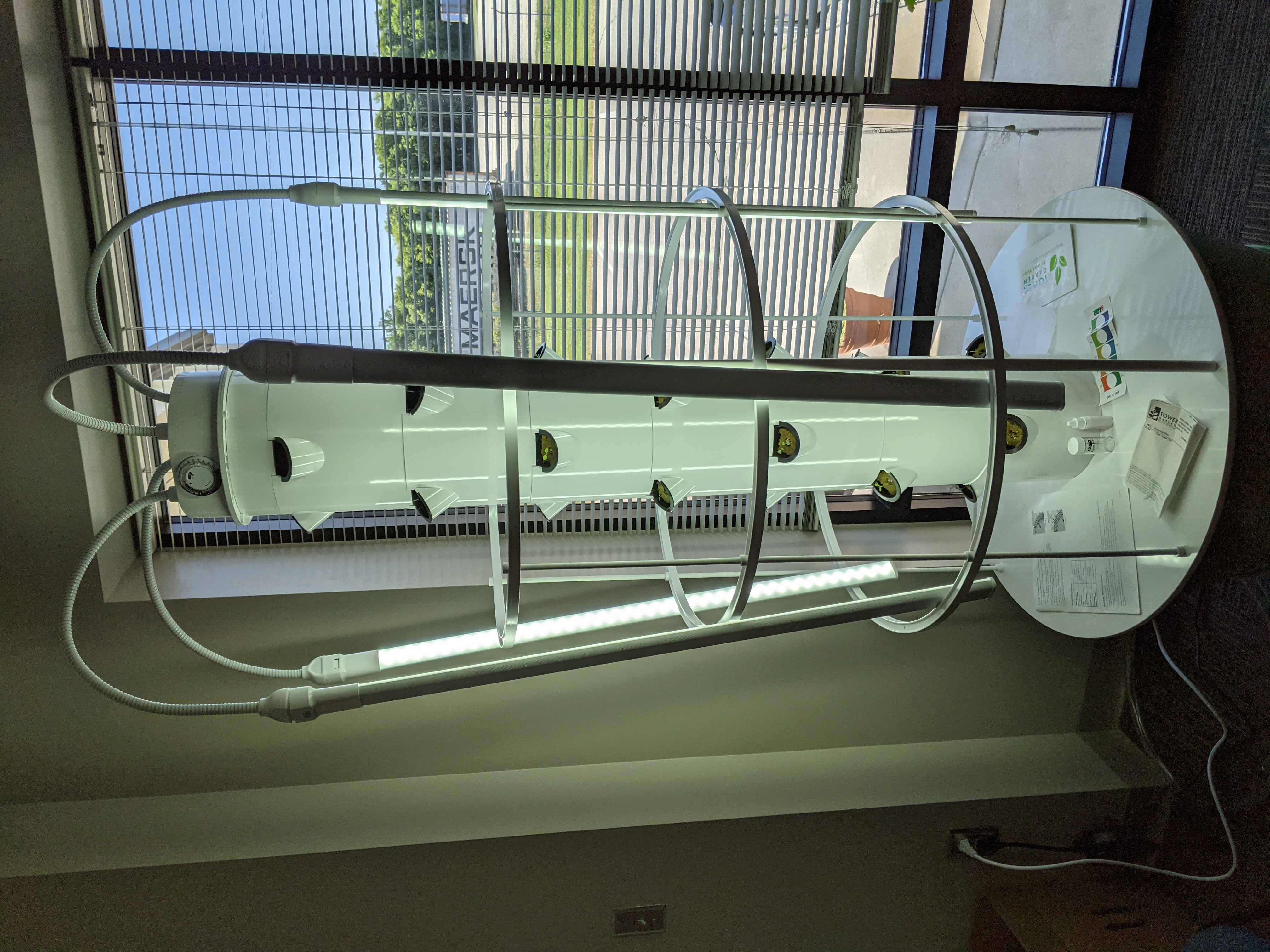 It's all very fun and exciting and I will be very interested to see how it all goes and exactly how much it will actually produce. Photos I have seen on the web of this type of thing shows that they seem to do well. Time will tell.
Keep checking back to follow the progress. I plan to post a photo at least once a week to show the plant development.
Update 1 - 6/22/21 Here are the seedlings at 2 weeks old and growing in the Tower.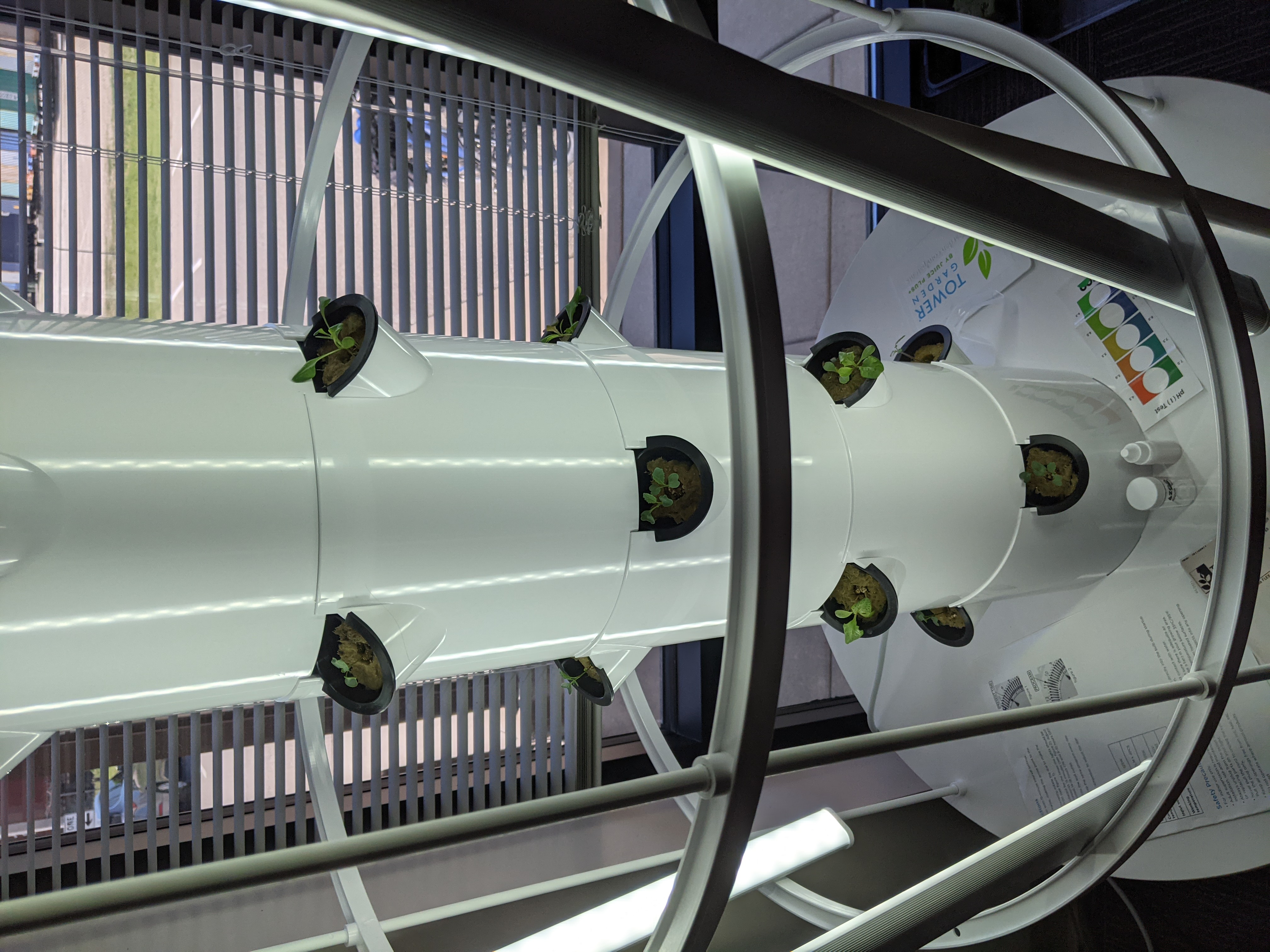 Update 2:
Here are the seedlings at week 3. They are showing some great growth. The upper holes have the Spinach seedings in them now. They are a bit behind but should grow fairly quickly now. I had sprouted them in the refrigerator since they are more of a cold season plant. The sprouting went well, I had at least 90% germination.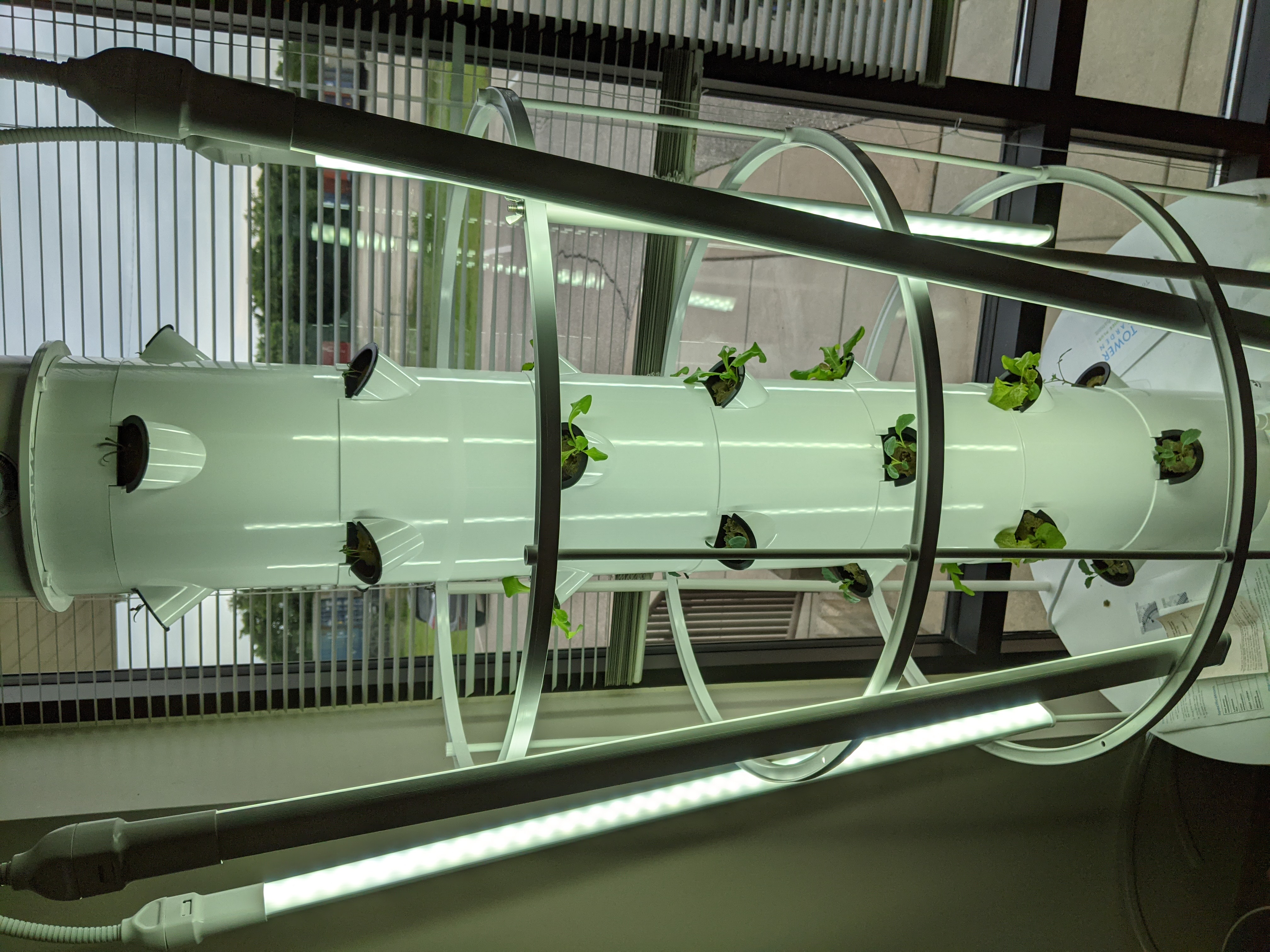 Update 3: This is how things are progressing at 4 weeks in on July 7. I took the photo from a different angle. You can see one of the 2 tomato plants in the bottom right. It is looking quite healthy and growing well. The Gormet type lettuce, near the bottom is doing the best at the moment. The Spinach is starting to develop some actual leaves and coming along well. It is in the top slots. The Kale and Bibb lettuce are showing some actual recognizable leaves and are looking very healthy.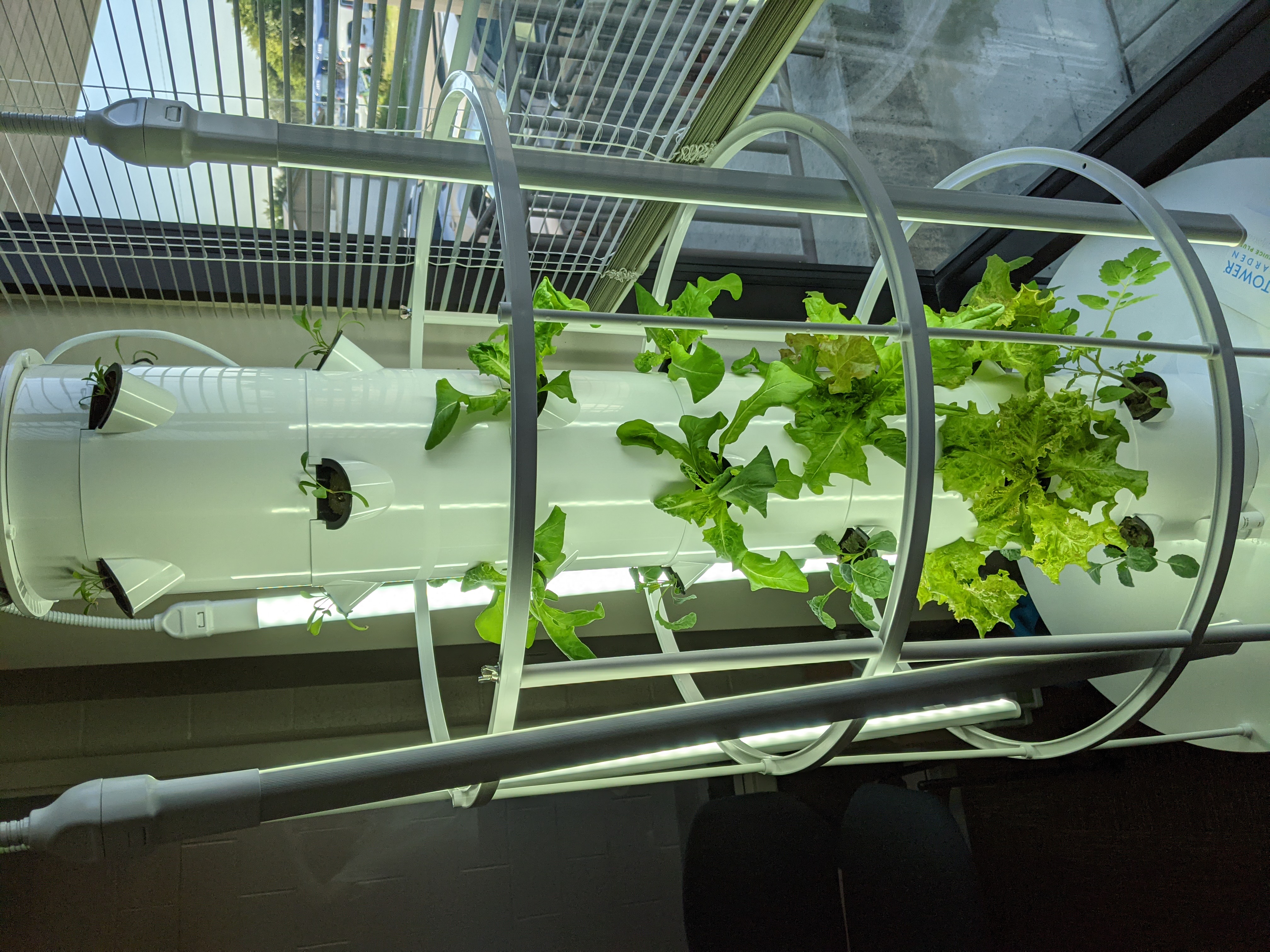 Update 4 - Week 5 July 15. The towerplants have really grown. The lettuce is doing the best I think. I thought the Kale ( a couple are visible on the left) would be fuller and may get that way. The Spinach is progressing slowly. I think it may be due to the light. I adjusted the lights a bit to hit the Spinach better so I will see if that helps. The tomato plants are really doing nicely and are about as tall as my ones at home in my garden. There are no flowers on them as of yet though.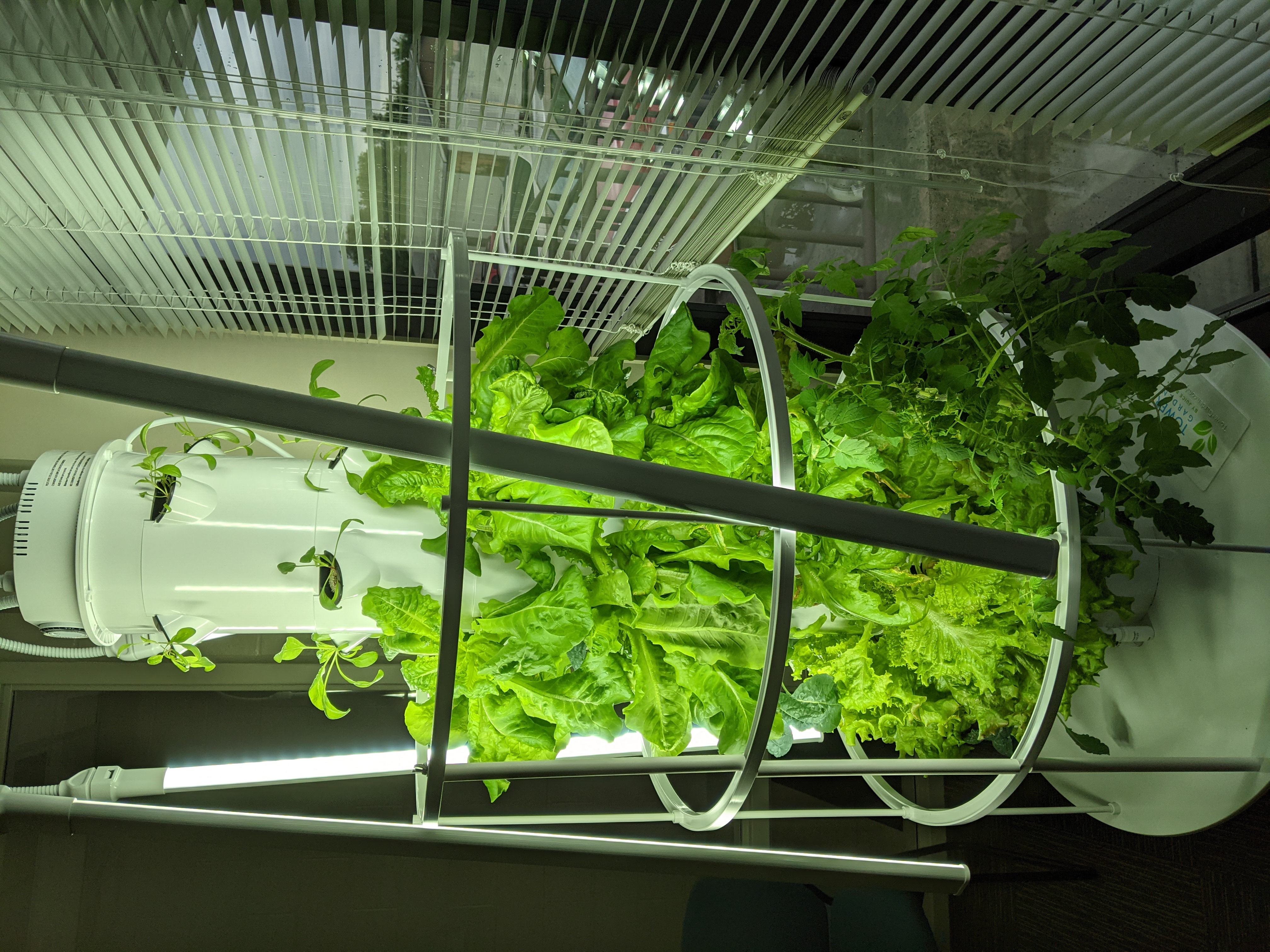 Update 5 - July 19 and 21, 2021
The Tower looked about the same as the 15th, maybe a bit fuller but it didn't really show up in a photo. The Tomato plants now have flowers and I am trying to polinate them. Hopefully that works so we can end up with Cheryy Tomatoes in the not too distant future. On Wednesday, the 21st we harvested Lettuce from the tower which is doing the best. From this experiment I have found that the various types of lettuce do the best and Kale and Spinach do OK but struggle. Spinach needs it cooler and more light and I am guessing the Kale may need more light. It may do better with a lot of the lettuce taken out now and it will have better access to light. I also moved the lights inside the cage to be closer to the plants. I will be planting more Lettuce due to this and hope to have a bigger harvest next time. We got 26 nice size bags out of it and sent them to one of our summer sites where I was told that they could hear the kids telling their parents excitedly that they received fresh lettuce! That is a success!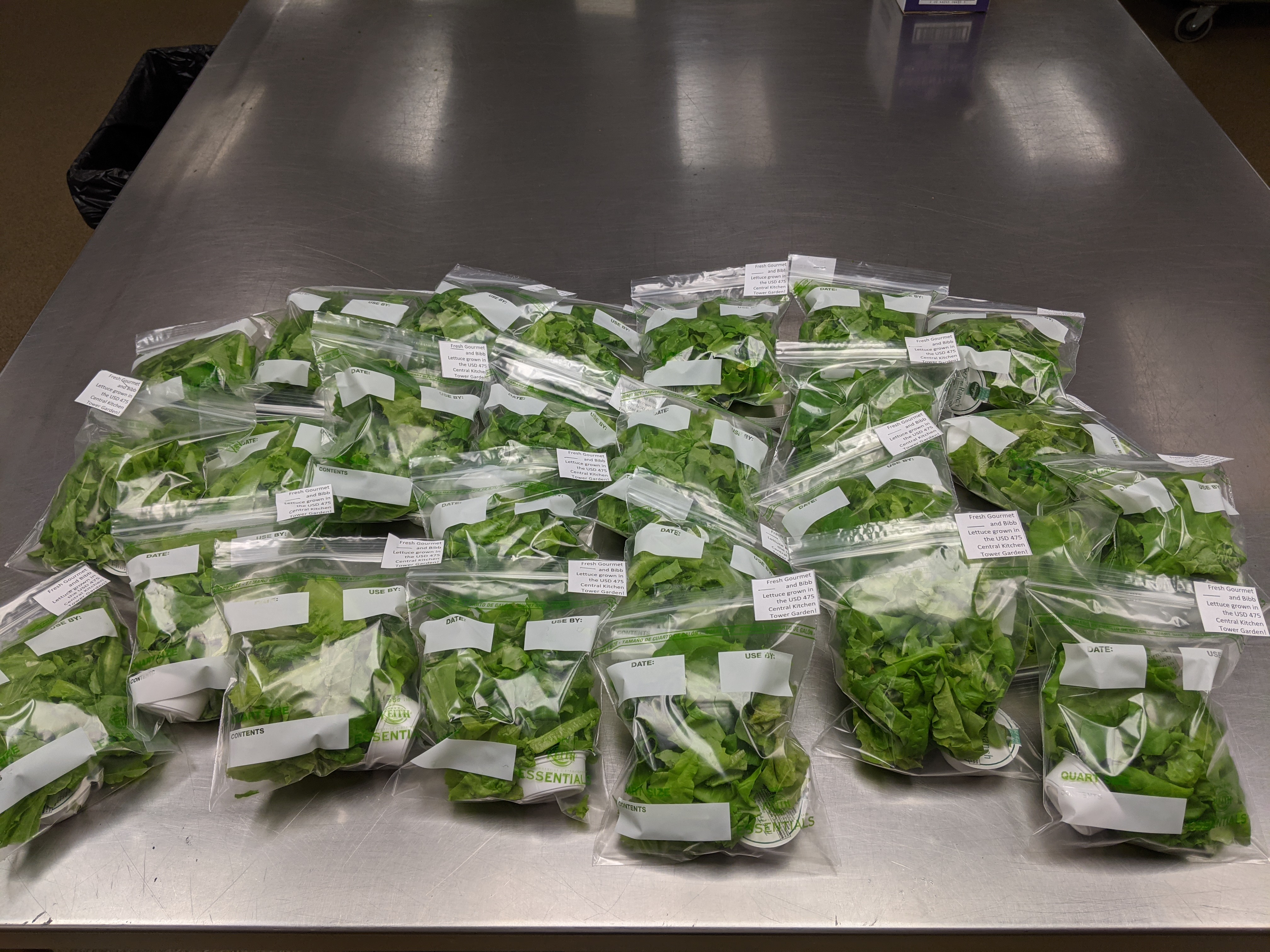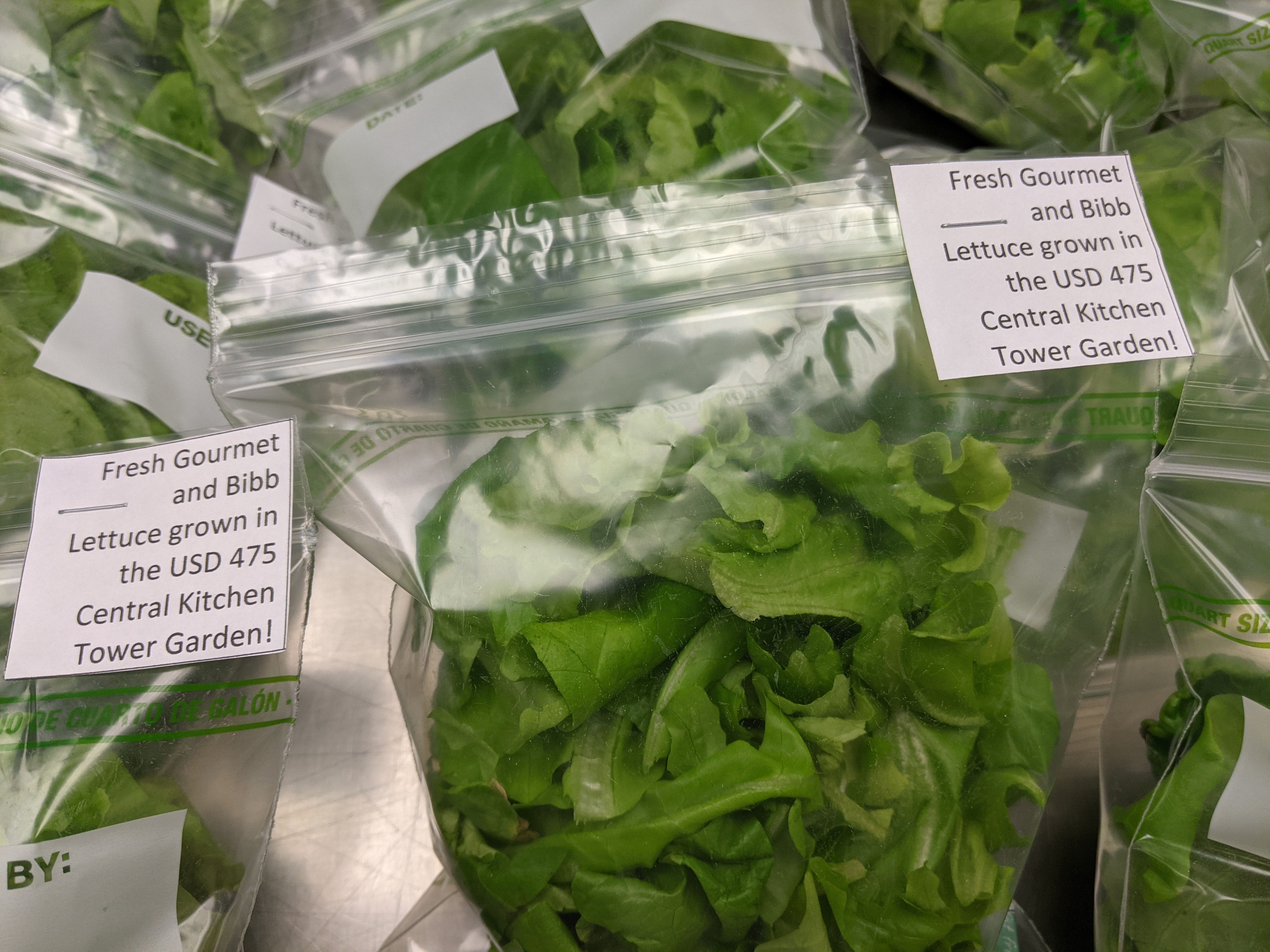 After the harvest the Tower was looking slightly bare but as I thought, the Kale and other lettuce with more light has begun to fill in.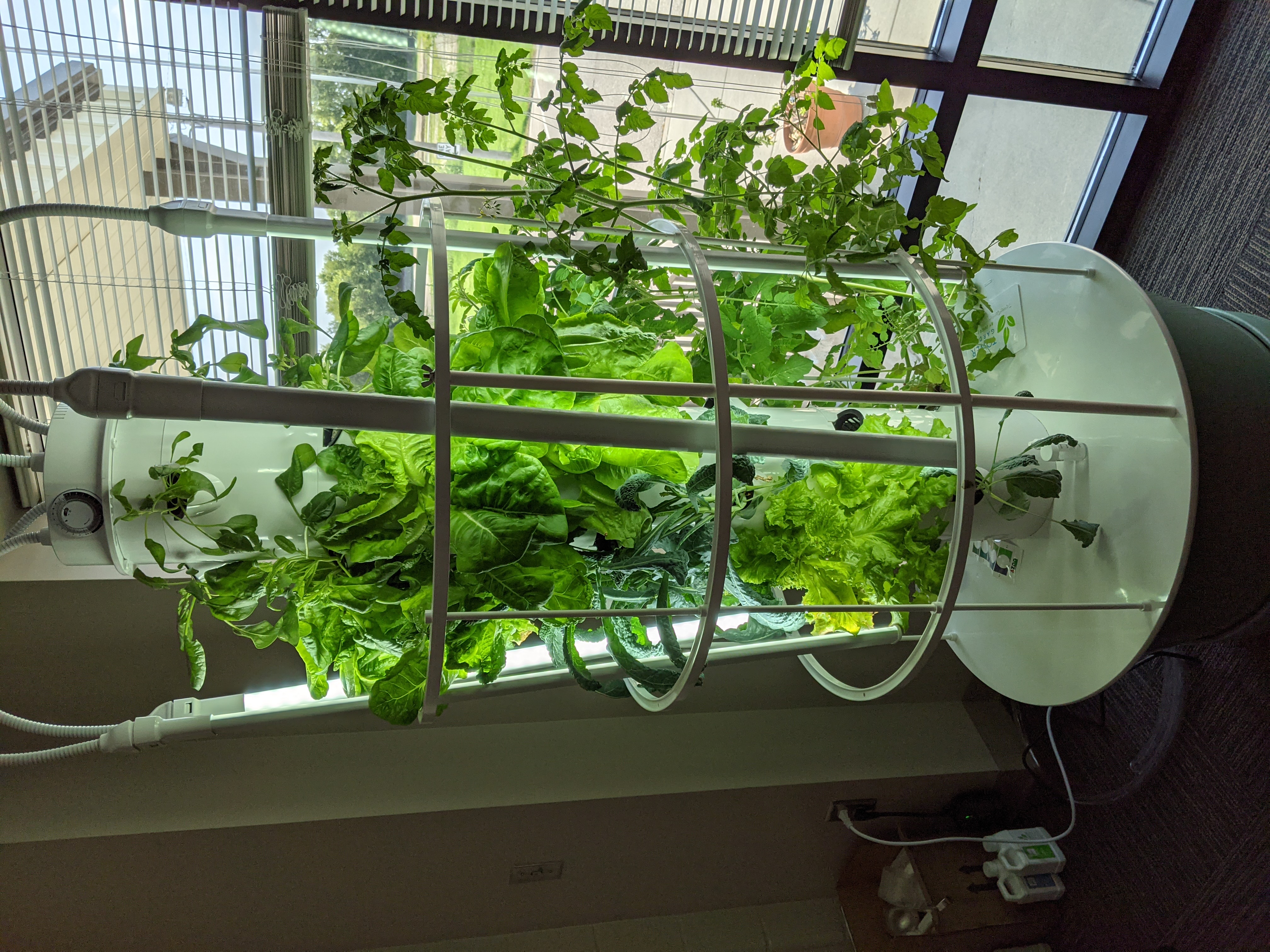 I also took this photo of the flowers the Tomato plant is producing. If my pollinating is succesful, we should have several clusters of tomatoes. I am using the vibrating technique and vibrate the flowers once a day or more to simulate the bees moving them around. Crossing my fingers that it works.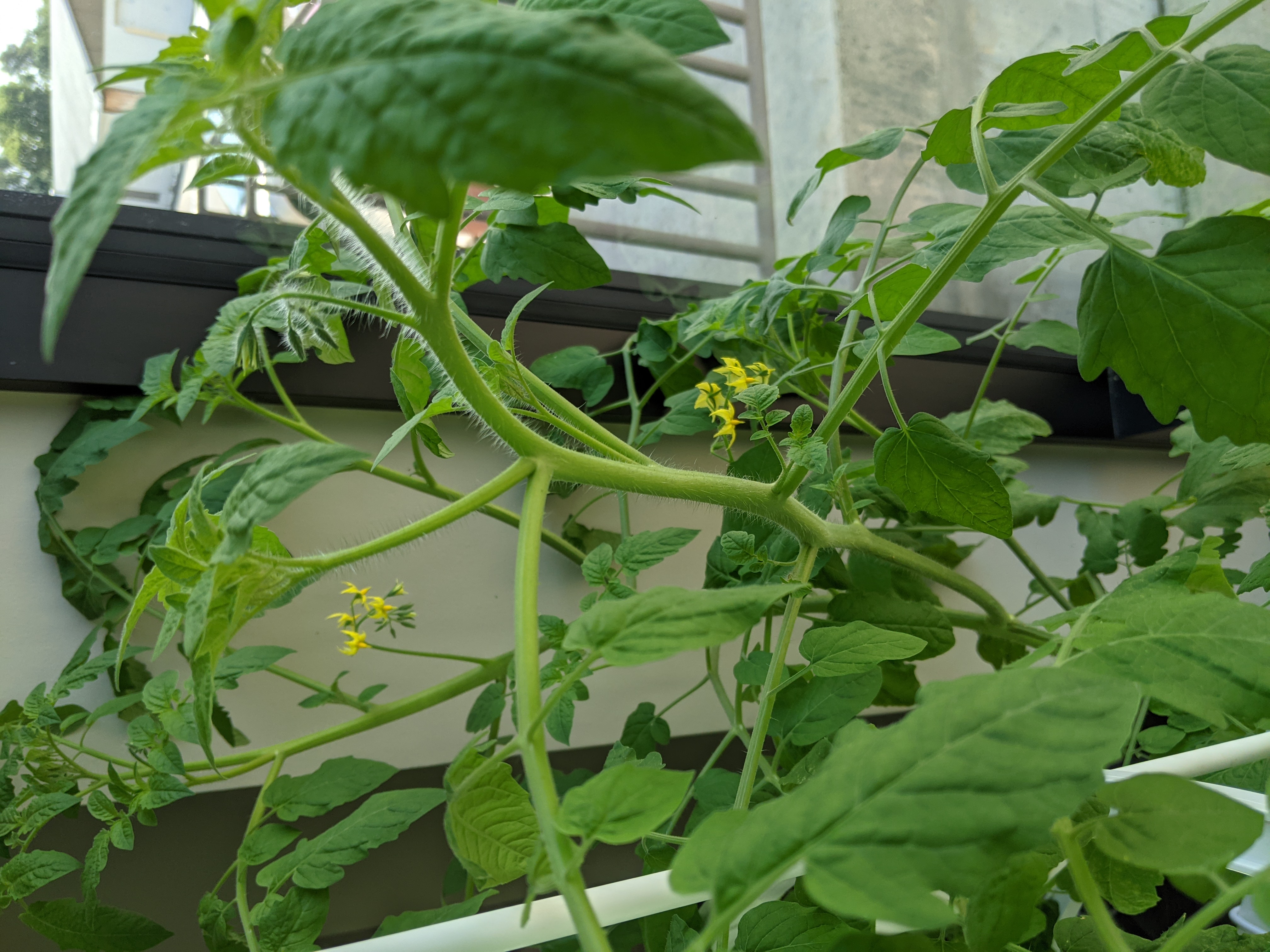 Here we are at 7 weeks in the Tower. It has gone crazy again and the Lettuce really needs to be harvested again. We will not have time till next Monday though and since school is not in session yet will most likely use it for a staff training where they will learn about the project. I plan to start some new lettuce and use it at our new High School when it opens in late August. The Spinach at the top is bolting and because it needed colder weather did not produce as well as I had hoped. I may add a few Basil plants as well.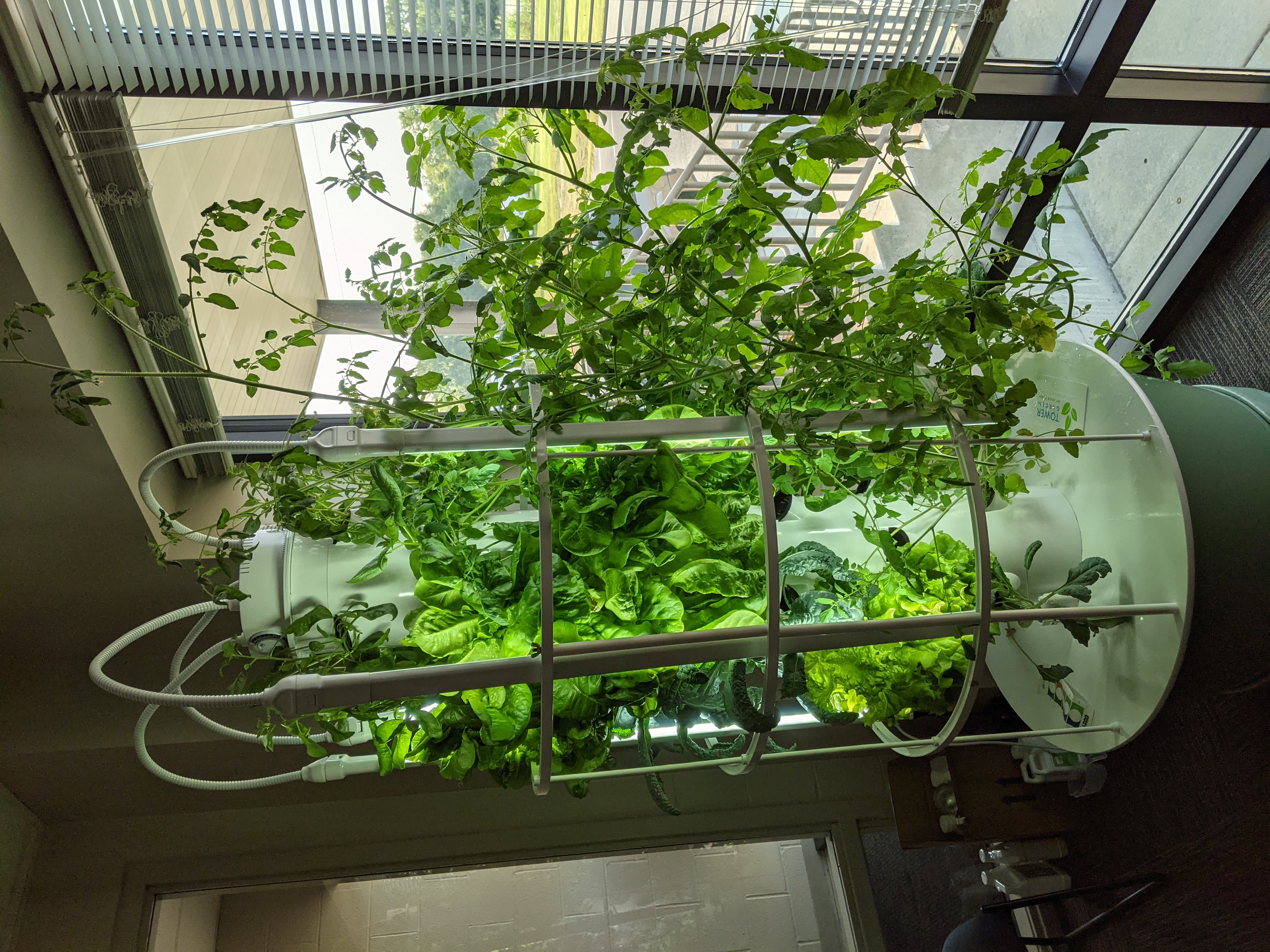 Additional update, we have tomatoes! My buzzing the plants like a bee has produced baby tomatoes! How exciting! You can see them here in the upper left of the photo.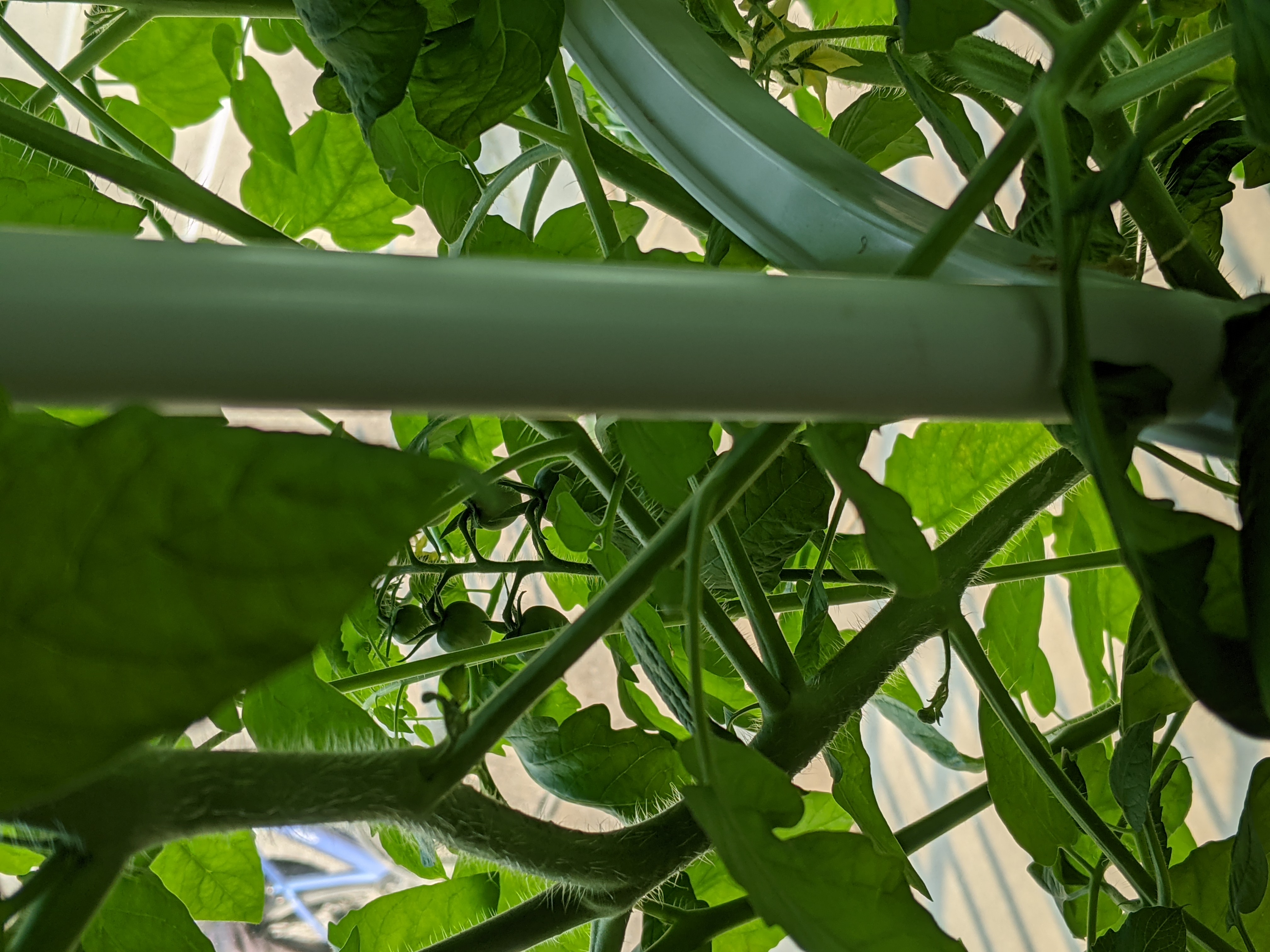 We are at 8 weeks now with the Tower. We have harvested a couple times. Everything is getting rather unruly. I am going to start some new lettuce plants by seen and possibly some Basil. The Lettuce Varieties did the best. We had the most beautiful Bibb Lettuce. The Kale did not produce like I expected. I think it probably needed more light. The lettuce kind of over shadowed it. As you can see in this photo, the 2 tomato plants have gone nuts! They are almost to the ceiling. Below the image of the tower as a whole is a shot of a second group of baby tomatoes. There are several groups of flowers and 2 groups, at least, of tomatoes.
A late update - Update 10 - 8/20/21
All the lettuce and spinach has been harvested. I removed what was left of those plants because they were becoming bitter and unmanageable. The roots on these plants were amazing to see. Quite long and thick, like white hair. I have new seedlings started of lettuce and a few Basil plants. As you can see, the Tomato plants are still going crazy. This is only 2 plants that have grown like a jungle. There are all kinds of baby tomatoes but none that are ripening yet.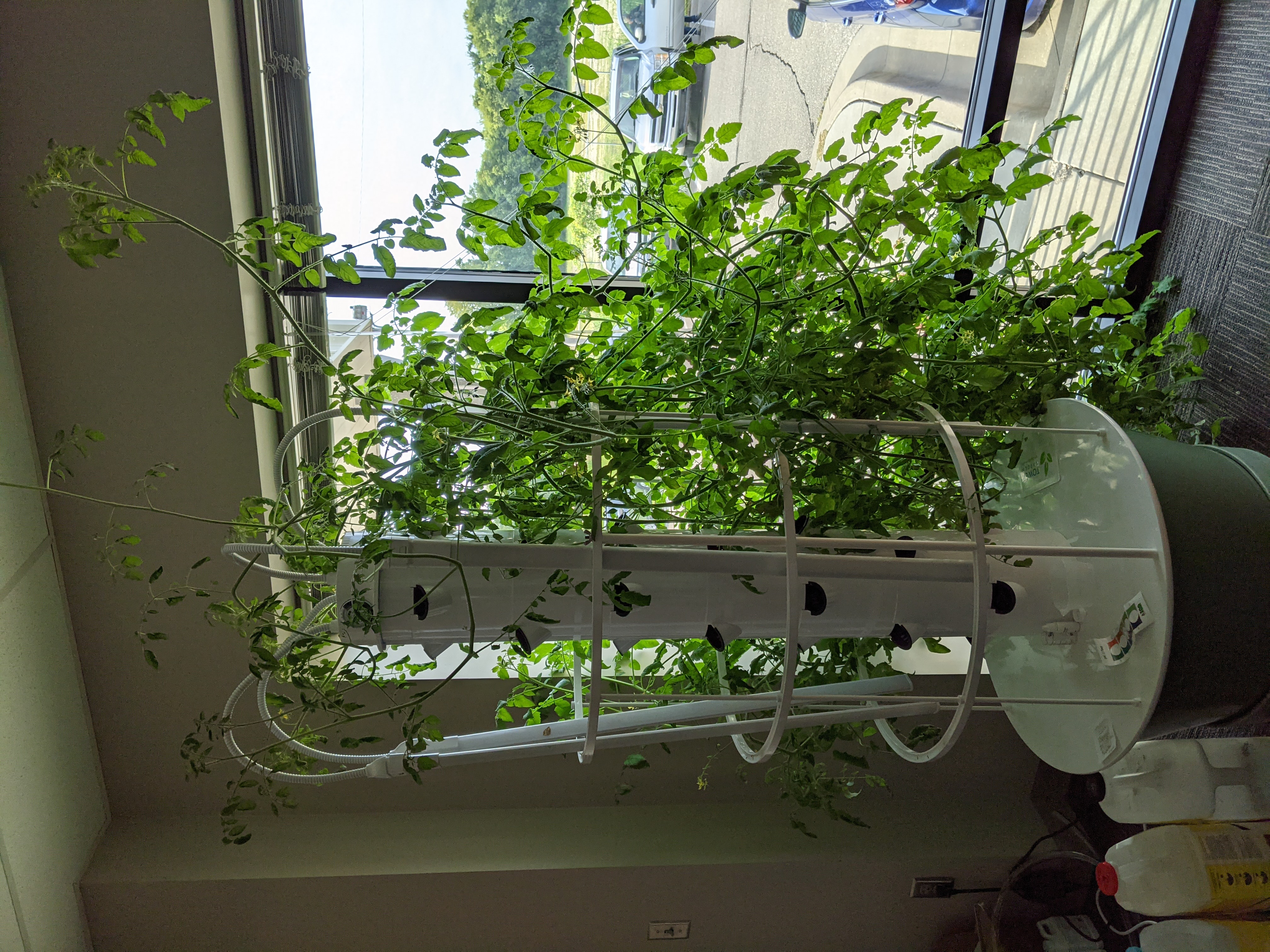 Update 11 - 8/25/21
Here we are at week 10 of the tomatoes. They are still going crazy in the tower. We have some that are about ripe! There are all kinds more of baby ones and flowers. I doubt enough woulf ever be ripe at one time though to feed a significant amount. They work well if you are only doing for a family though.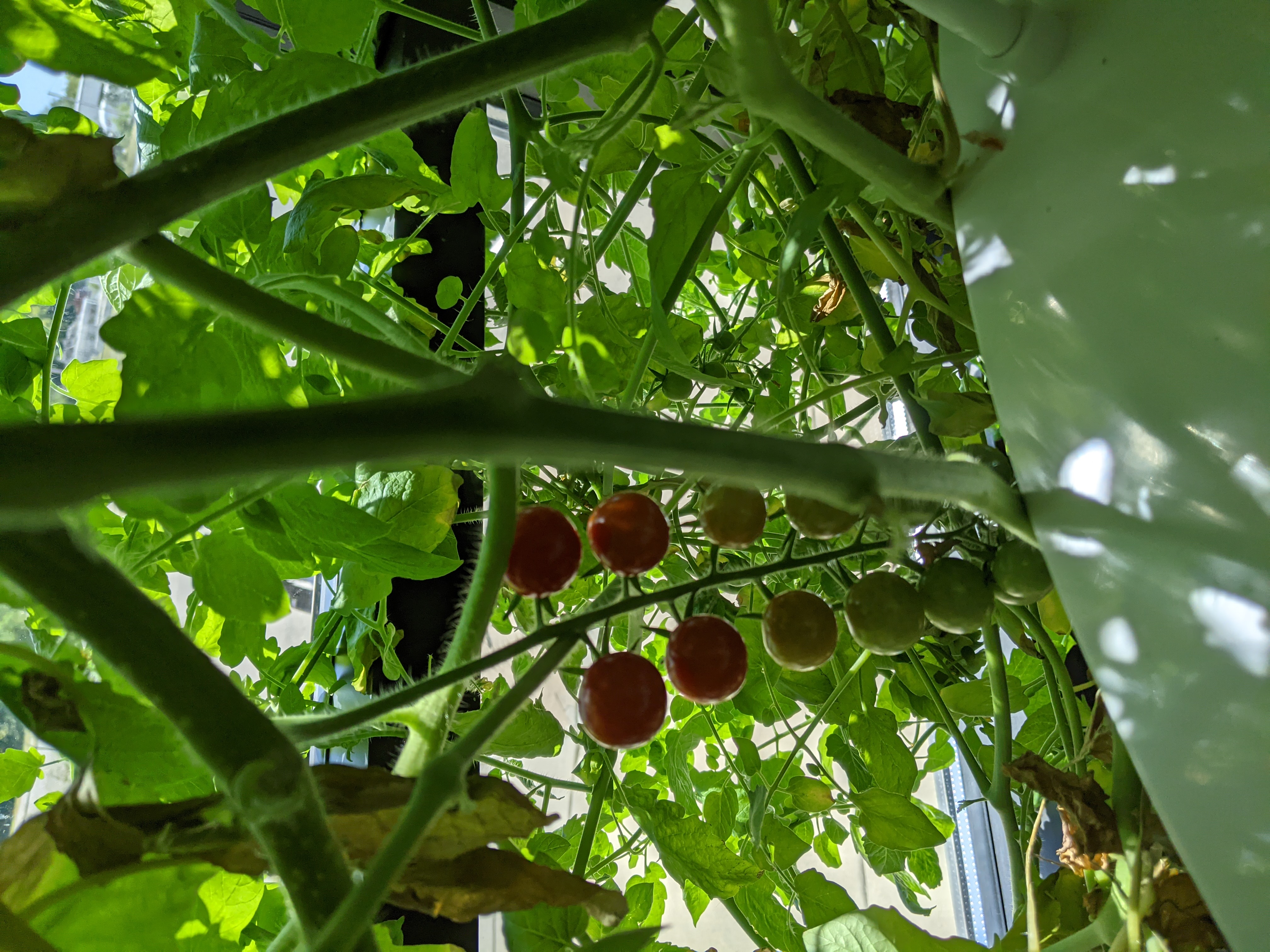 Update 9/20/21 - Week 15
I have not updated for awhile. Not much to see except how crazy the tomato plants are. This is the result of only 2 plants. They have just about taken over the tower and window. Just crazy. They are producing a good amount of Cherry Tomatoes, not enough for a school but would be great for a family. It's been an interesting experiment. My Cherry tomatoes in the garden have never grown or produced like this. There is also new lettuce growing in the tower and a few Basil plants. We will be serving the tomatoes to an Early Childhood class along with info on where they were grown on Wednesday.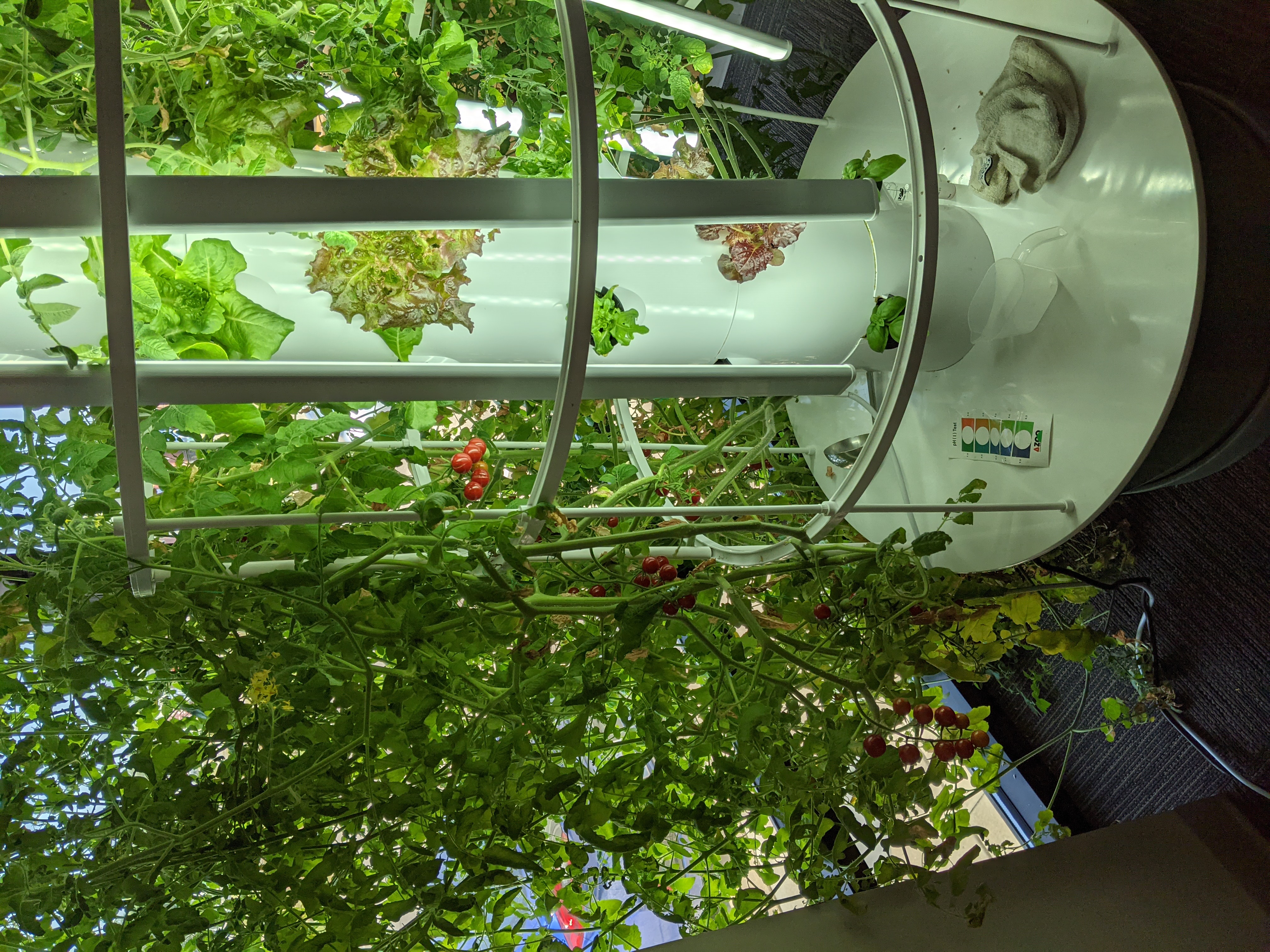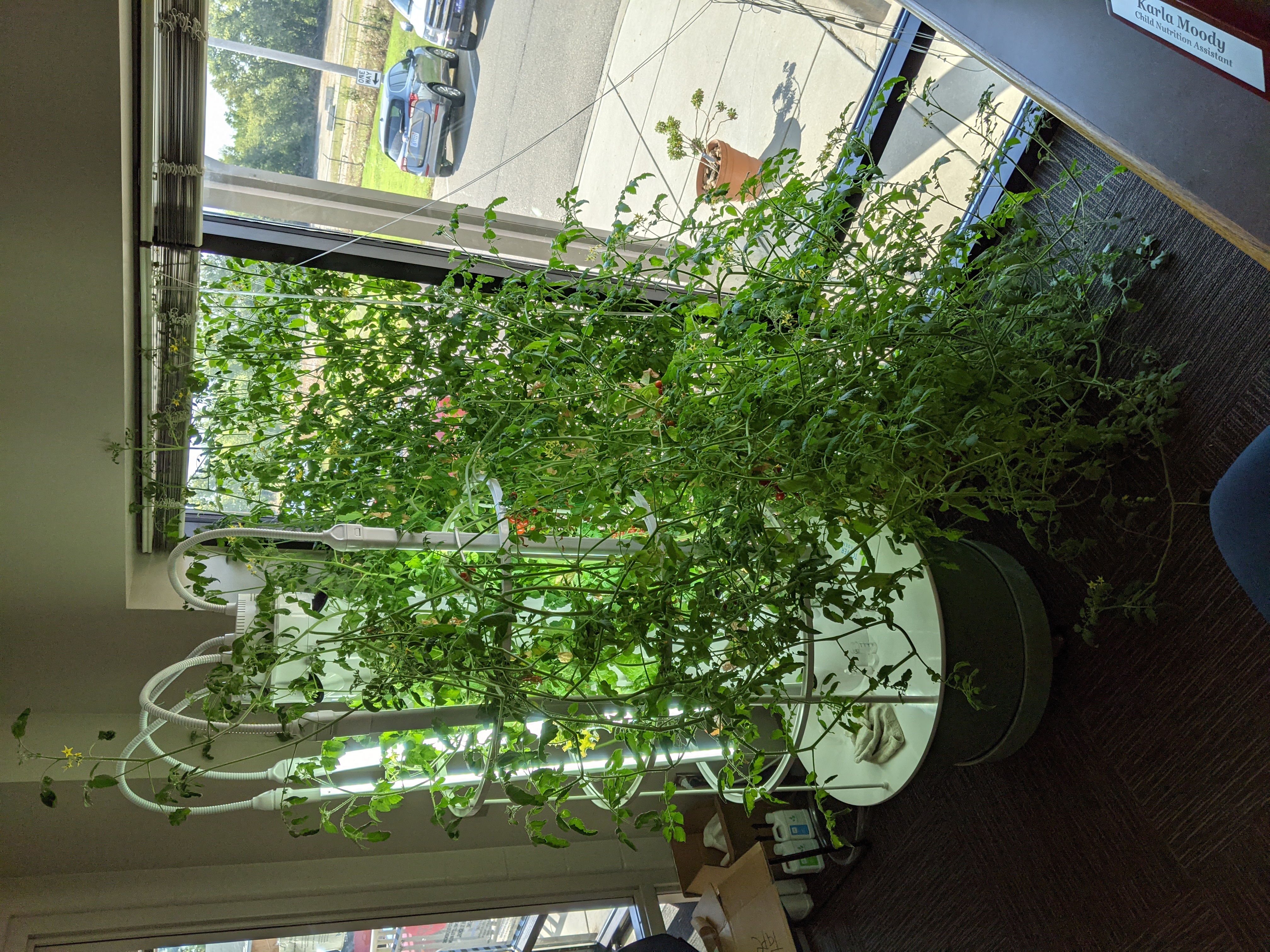 Tuesday afternoon - 9/21/21
Tomatoes harvested for lunch tomorrow and bowled up. Printed a photo and description for teachers to share with the students. Actually a pretty good harvest. I had to taste test a few split ones. Very tasty.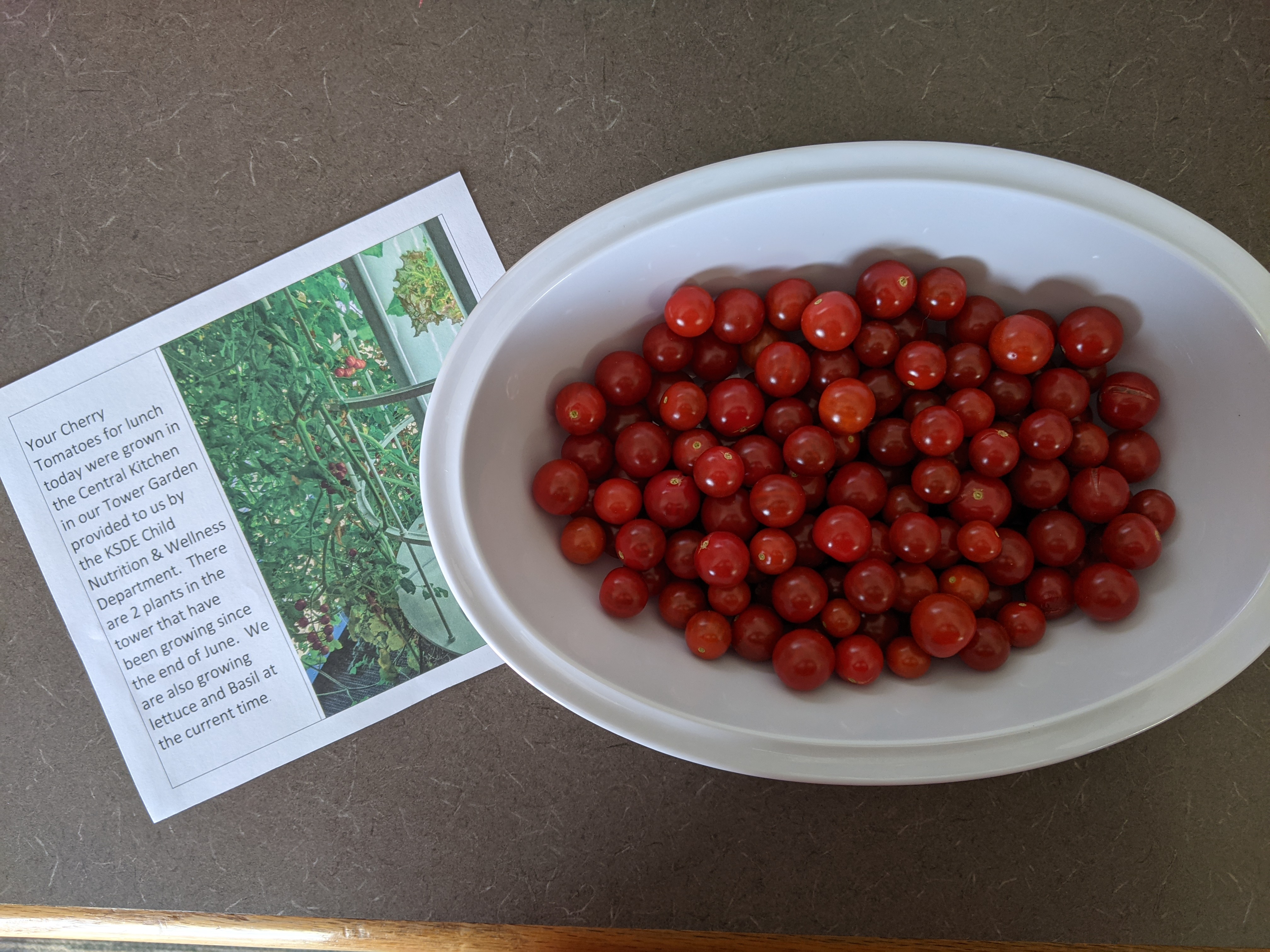 #fuelingkskids